kkazin
By kkazin on September 9, 2021
Tweet Come out on Sunday, 9/12, and get your car washed to support EP Music! Many students have been collecting pledges, so the more cars we wash, the more money we make! Free will donations will be accepted but are not required. We'll be washing from 8-3, rain or shine! Please tell your friends and […]
Posted in News
By kkazin on September 9, 2021
Tweet Sorry to announce that we will not be performing at Stagg on Saturday due to lack of transportation.   We will continue to work to perfect the field show so that we are prepared to successfully compete at Marengo and Sandwich.  (Transportation has already been secured for both of those competitions.)
Posted in News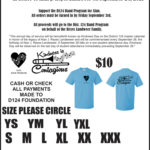 By kkazin on September 7, 2021
Tweet Please consider ordering a t-shirt to support the D124 Foundation in remembering Alan J. Reyes Landweer. Orders are due September 10th. Details are on the attached order form.
Posted in News
By kkazin on August 29, 2021
Tweet UPDATE: HIGH SCHOOL BANDS WILL NOT PARADE FROM THE ARMORY. Halftime performance only. Please see the attached document with information regarding U of I Band Day on Saturday, September 4th. Email the Kazin's with any questions.
Posted in News
By kkazin on August 13, 2021
Tweet Our Music Booster meeting of the year will take place on Monday, August 30th at 6:30 p.m. in the Leadership Room. Please find out what's new and how you can help to support EP Music this year!
Posted in News
By kkazin on August 13, 2021
Tweet Please follow the link below to access the 2021-22 EP Fine Arts Event Calendar. This Google Doc will be edited as necessary as the year progresses. Check back often! https://docs.google.com/document/d/1AKNZ-e-cxKPn5YsI8ZTgAJQiCw_BzNOwLByonaAyMlw/edit?usp=sharing
Posted in News
By kkazin on April 13, 2021
Tweet The Music Boosters are offering college scholarships for seniors and summer camp scholarships for all other music students. Please see the applications below for details. In order for seniors to be eligible for scholarships, their families must be paid booster members by October 1st.
Posted in News
By kkazin on March 30, 2021
Tweet We are excited to announce that Spotlight on 99th will return with an in-person camp this summer! Camp dates are June 15th-July 10th and the talented cast and crew will present "The Lion King, Jr." Please see the attached information sheet and registration form for more information. Space is limited because of COVID restrictions, […]
Posted in News
By kkazin on March 12, 2021
Tweet Reserve your streaming license now for "Working" by Stephen Schwartz. The show will stream on March 26th and 27th at 7 p.m. and March 28th at 2 p.m. Use this link to reserve access now! https://www.showtix4u.com/event-details/47840
Posted in News
By kkazin on March 12, 2021
Tweet Mark your calendars for 2 very important dates this spring! Our Spring Concert will be held in the stadium on Sunday, May 16th at 7 p.m. Plan to rehearse at approximately 5 p.m. that night. Our annual awards night will be held on Wednesday, May 19th at 7 p.m. More details about both will […]
Posted in News